Issues For Conducting Clinical Research During the COVID-19 Pandemic
October 2020
A timely research article in JMIR Public Health and Surveillance details considerations that Principal Investigators (PIs) must take into account when determining if and how to conduct participant visits for clinical research trials during the COVID-19 pandemic. The authors examine all aspects that can have an effect on participant visits, ranging from policy-related factors to workforce-related issues and research participant perspectives. Ultimately, the PI must evaluate the risk-benefit ratio to identify the best course of action, with a suggested decision tree for determining when to conduct in-person participant visits.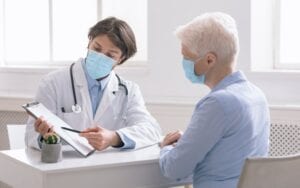 "In the 16 years since INQUIS' inception, the past 8 months operating in the COVID-19-era have certainly been the most unpredictable and challenging. We have implemented changes guided by Good Clinical Practice principles, guidelines from our local Public Health unit, current community transmission of COVID-19, staffing logistics, and participant comfort," says Dr. Thomas Wolever, President and Medical Director. 

"We were proud to re-commence clinical visits successfully in June and are grateful to our team of dedicated staff and committed research participants. Our recent participant survey affirmed that we are responding to health and safety needs. Our participants indicated extremely high ratings for the levels of cleanliness at INQUIS, the ability to physical distance in our clinic, and their confidence in our enhanced safety protocols," says Dr. Alexandra Jenkins, Director of Research.
To see the results of our participant survey, click here
To read the JMIR Public Health and surveillance article, click here