What is GCP and Why Does It Matter?
August 2019
When conducting clinical trials, strict adherence to Good Clinical Practice (GCP) is required. GCP is an international ethical and scientific quality standard for all aspects of clinical trials, encompassing trial design, execution, recording, and reporting. GCP guidelines also clearly define the roles and responsibilities of review boards, investigators, sponsors, and monitors, who each play a role in the successful execution of a clinical trial.
Complying with GCP ensures that the rights and well-being of the trial participants are protected and that the data generated by the clinical trial are credible.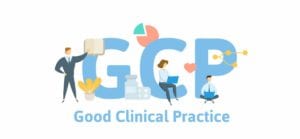 "Compliance with GCP ensures that our study participants are protected, our trials are scientifically sound, we are consistent with internationally-accepted definitions of terms, such as adverse events and protocol deviations, and the data we produce are robust." 

– Janice Campbell, Associate Director of Clinical Affairs